MyCompass provides integrated support for schools in guiding students to achieve their future.
Dedicated students are motivated learners
Helping students recognise their potential and strengths, and develop plans to achieve their goals has a proven positive impact on academic achievement, classroom participation, and career success. Motivated students also drive stronger school performance and build stronger communities.
200+ schools have entrusted MyCompass to guide students with the following benefits:
Easy to use
Helps students make holistic decisions related to future student planning
Practical
Monitor student progress anywhere, anytime
Efficient and effective
Relieve the administrative process and help the student counselling process
Meaningful student counselling
Enables strategic, comprehensive, and more meaningful counselling
Comprehensive
Extensive and accurate resources on universities, their programs and courses, careers and professions
Organized
Integrated student information and data stored on one page
Adaptive lecture and career guide
MyCompass provides students with critical tools to prepare for courses, careers and the future with proven pedagogy. Complete with check lists and reminder features to guide to students to be more strategic in planning for college.
Latest information and guides
Each student is different with their own unique potential. The MyCompass database comprises thousands of database majors, lectures, careers, colleges, and scholarships to help students navigate and prepare for the path that is right for them.
Integrated data
Through the Student Analysis Dashboard, MyCompass facilitates schools and institutions in monitoring and guiding the development of the academic goals input by each student. Compare the performance and aspirations of each student, per class or per batch, as well as features to track your school's alumni after graduation.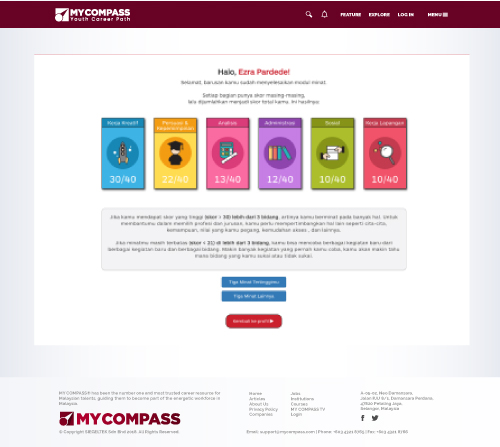 Get to know your students
The MyCompass platform helps teachers and schools guide students towards academic success and in planning for college and future careers. Using a series of scientifically proven modules, teachers get a holistic profile of individual students, including the six student dimensions – interests, self-preference, values, personality, learning style and capability – and the core skills needed for today's modern workforce.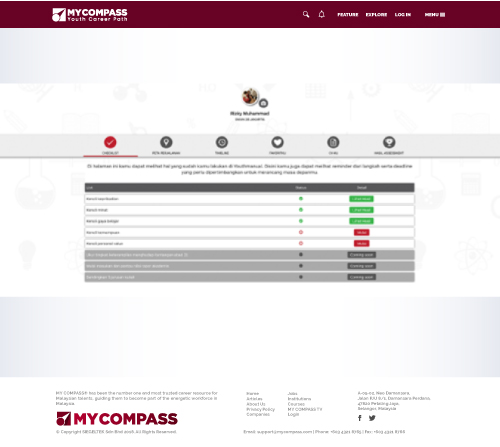 Helping students in preparing and achieving their goals
Using MyCompass, schools and institutions can provide students guidance on designing personalised plans, using real data on their interests, potentials and strengths, to enable them to make the best decisions about their education and professional careers.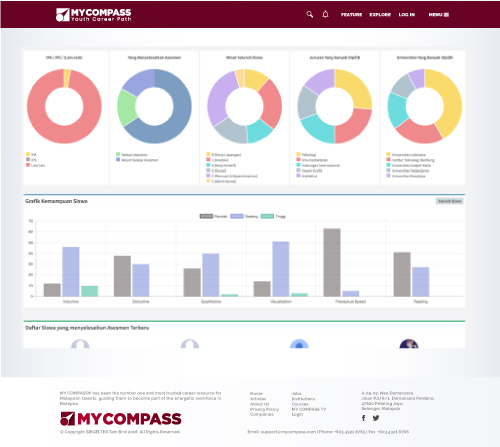 Monitor your student's development
Get detailed information on a variety of student dimensions, their future aspirations and academic progress over time via the Student Analysis Dashboard. This dashboard is comprehensive, integrated and easy to use by school administrators, teachers and parents.